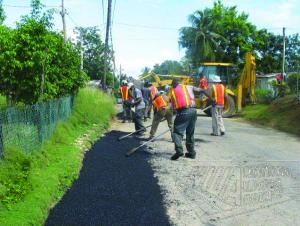 The National Works Agency (NWA) is to begin a major road patching effort in sections of St. Elizabeth. The works are slated to get underway next Monday, November 7.
The programme of works will target 15 road sections across the breadbasket parish, to include the corridors from Pedro Cross to Lititz and Pedro Cross to Black River. Other roads that are to benefit under this programme, valued at 16 million dollars are the stretches from Wilton to Union; Black River to Luana to Scotts Cove; Lacovia to Mountainside; Malvern to Santa Cruz and Bellevue to Munro. The roads from Springfield to Mocho; Four Paths to Pizgah; Vauxhall to Union; Middle Quarters to Jacks Gate and Luana to Tombstone will also benefit under the programme. The patching activities are slated to be executed over a six-week period.  
These works are to be augmented by activities to be undertaken through the recently announced multimillion-dollar programme, through which each member of parliament will be allocated 21 million dollars for activities, including patching. A minimum of 40 million dollars is expected to be spent in the parish through the programme announced in Parliament this week by Prime Minister Andrew Holness.
The NWA is advising motorists and pedestrians to obey all posted warning and directional signs and the instructions of flag persons while patching is in progress.