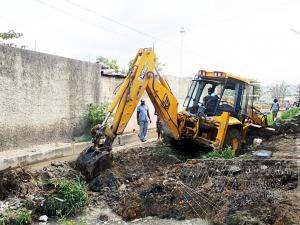 The National Works Agency (NWA) has embarked on another phase of its Disaster Mitigation Programme. The new programme, which is valued at 95.8 million dollars, is being implemented in all parishes. This is the second such drain cleaning programme implemented since the start of the 2018 hurricane season.
Manager of Communication and Customer Services at the NWA, Stephen Shaw says the programme targets critical drains and gullies that have been identified for attention. He says critical drains are integral to the drainage network and include those in perennial flood prone areas.
Mr. Shaw further stated that the programme of work is still being finalized in some parishes, but the NWA expects the cleaning exercise to be executed over the next eight weeks.
He says consultations have taken place with elected representatives in each parish, so as to involve a wide cross section of persons in the discussions on which drains should be done.
Mr. Shaw says this approach is being used, as the budget cannot satisfy the demands placed on the agency by some communities.